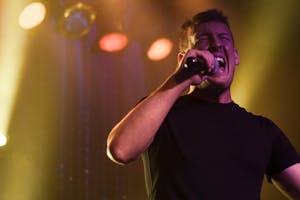 Fri, April 9, 2021
Doors: 7 PM
/
Show: 8 PM
Wooly's
Des Moines
,
IA
Justin Jarrell will be performing at Wooly's on Friday, April 9th, 2021.
Here are some safety precautions we are / have been practicing at Wooly's which has been providing a safe environment for our fans at Wooly's:
Masks are required when attending a show. If you forget your mask, you can purchase one for $1 at the door.
We will be disinfecting surface areas regularly & washing hands regularly.
Our employees will be in PPE (Gloves, Masks)
Hand sanitizer stations will be located throughout the venue and in restrooms.
If you are not feeling well, please do not attend!
Please message us with any questions or concerns at info@woolysdm.com.
Thank you for keeping our staff, performers, and patrons safe!
About Justin Jarrell
JUSTIN JARRELL is a singer/songwriter and born entertainer. Fans of his pop/rock music style have described Justin's music as modern, top 40. Justin's latest album was released October, 2nd 2020. His music has been referred to as "upbeat and catchy". Audiences have referred to Justin's soaring vocals as "captivating". His commanding stage presence is high energy with a feel-good, make-you-want-to-dance vibe, that also includes classic power ballads and crowd favorites.
When asked how his performances can embody so much energy and passion, Justin says, "At a young age I discovered that music is a tool you can speak through and is something that holds the power of self-expression. He continues, Unfortunately, there's also a lot of things in life that can get people down. My goal is that my music is a way for people to escape and have a good time. But, life is also filled with great moments too. So I'm inspired to write songs that cover both the good and bad.
Justin was born into a musical family which allowed him to develop and perfect his musical abilities at a young age. Being a rarity in music, Justin doesn't read music and has the unique ability to play whatever he hears on the piano by ear.
About DJ Rock Paper Scissors
I discovered DJing by way of my love of dancing. I was having trouble finding enough of the dance parties that I wanted to be at in Des Moines. The scene certainly has a few stand out dance parties but I found many of them to be super generic and flooded with basic. I concluded that I could not rely on other people to do it for me. I was running that idea though my head for a while. When I found myself at a small party in a different city. Luiza da Silva e Sá from CSS was spinning on CDJs and I sort of swooned a bit (for CDJs not Luiza). Shortly thereafter I got some equipment and got busy. When I first started, I was struggling to find enough electronic music to fit my vision for what a dance party could be. Then I stumbled across Breakbeat, still my favorite genre to spin. If you're not familiar with Breakbeat you're not alone but it's actually one of the oldest and most influential electronic genres out there. A one sentence explanation might be old Funk, Motown or soul vocal tracks, put it over more danceable instrumentation. Come find me and hear for yourself.
- Sören Albaugh