Show Info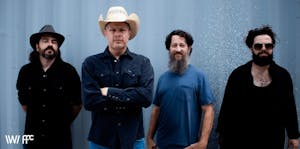 Presented By First Fleet Concerts
Jason Boland & The Stragglers
Wooly's
Des Moines
,
IA
Jason Boland & The Stragglers will be performing at Wooly's on Thursday, April 8th, 2021.
Here are some safety precautions we are / have been practicing at Wooly's which has been providing a safe environment for our fans at Wooly's:
Masks are required when attending a show. If you forget your mask, you can purchase one for $1 at the door.
We will be disinfecting surface areas regularly & washing hands regularly.
Our employees will be in PPE (Gloves, Masks)
Hand sanitizer stations will be located throughout the venue and in restrooms.
If you are not feeling well, please do not attend!
Please message us with any questions or concerns at info@woolysdm.com.
Thank you for keeping our staff, performers, and patrons safe!
About Jason Boland & The Stragglers
Music is having a moment. Listeners are crying out for something true––some meaty songs that'll give us some comfort, even as they cut closer to the bone.
Everyone is finally ready for the gritty, thundering country Jason Boland and the Stragglers have sharpened over almost 20+ years' worth of selling out roomy venues and commanding stages across the nation.
"We're just trying to make something that we're proud of," lead songwriter and vocalist Boland says. "If any more people want to take notice of it, they're welcome."
Since coming together in Stillwater, Oklahoma, Boland and his tight knit crew have sold more than half a million albums independently and earned a devoted following that's swelled far beyond the band's red dirt roots. At a Stragglers show, oil patch roughnecks, hippies, college kids, and intelligentsia all sway side-by-side like a traveling reincarnation of Austin's Armadillo World Headquarters in its cosmic cowboy, Willie Nelson heyday.
While the Stragglers draw from rock and folk, make no mistake: they traffic in unfiltered, unfettered honky-tonk, raw and lean.
For 2020, the band is celebrating the 20th Anniversary of their debut album Pearl Snaps with a nationwide tour where the band will play the record front to back along with favorites from their extensive catalog. The legendary record was recorded with famed producer Lloyd Maines and behind the success of songs like "Pearl Snaps" "Somewhere Down in Texas" "Proud Souls" and others it quickly became a beloved classic and still continues to be named as a major influence for many of the top artists coming out of the Texas/Oklahoma country music scene.
About Jake Simon
"Small-town road warrior" Jake Simon grew up in Tama, IA, graduated from Grinnell, and released his first song "Chasing The Wind" at age 18. At just 22 years old, his debut single to country radio and title track to his debut album "I Still Think About You" is a Top 40 single on the Music Row Country Breakout chart. He's opened for some of country music's hottest acts already and continues to grow in the right direction. Look for more new music coming soon!

Venue Information:
Wooly's
504 East Locust Street

Des Moines, IA, 50309