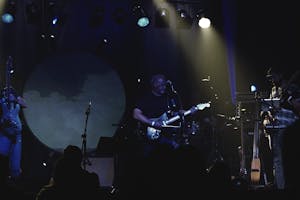 Floyd: A Tribute To Pink Floyd
Sat, June 5, 2021
Doors: 7 PM
/
Show: 8:30 PM
Wooly's
Des Moines
,
IA
Floyd: A Tribute To Pink Floyd
Floyd: A Tribute To Pink Floyd will be performing at Wooly's on Saturday, June 5th, 2021.
Here are some safety precautions we are / have been practicing at Wooly's which has been providing a safe environment for our fans at Wooly's:
Masks are required when attending a show. If you forget your mask, you can purchase one for $1 at the door.
We will be disinfecting surface areas regularly & washing hands regularly.
Our employees will be in PPE (Gloves, Masks)
Hand sanitizer stations will be located throughout the venue and in restrooms.
If you are not feeling well, please do not attend!
Please message us with any questions or concerns at info@woolysdm.com.
Thank you for keeping our staff, performers, and patrons safe!
About Floyd: A Tribute To Pink Floyd
Floyd is the Midwest's most sonically pure and visually stunning tribute to the music of Pink Floyd with the single minded goal of delivering the most authentic experience short of owning a time machine. Floyd has been captivating audiences with their live performances since they first hit the stage.
A stylistically unique Band from day one, the members of Floyd have been singing, performing, and playing in sync as if they'd been together their entire musical careers. Throughout the course of the band's union, they have won over the hearts of Pink Floyd fanatics along with other music lovers from all walks of life; performing at a variety of venues throughout the Midwest.
This year Floyd will be celebrating the 40th anniversary of the release of Pink Floyd's The Wall by featuring several pieces from The Wall as well as many Pink Floyd popular hits.