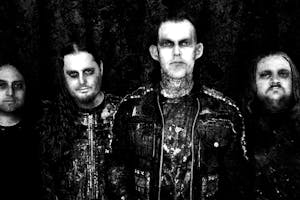 Presented By First Fleet Concerts
Carnifex - Road To Rock Fest 2021 Tour
Tue, July 13, 2021
Doors: 6 PM
/
Show: 7 PM
Wooly's
Des Moines
,
IA
Carnifex - Road To Rock Fest 2021 Tour
Carnifex will be performing at Wooly's on Tuesday, July 13th, 2021.
Here are some safety precautions we are / have been practicing at Wooly's which has been providing a safe environment for our fans at Wooly's:
Masks are required when attending a show. If you forget your mask, you can purchase one for $1 at the door.
We will be disinfecting surface areas regularly & washing hands regularly.
Our employees will be in PPE (Gloves, Masks)
Hand sanitizer stations will be located throughout the venue and in restrooms.
If you are not feeling well, please do not attend!
Please message us with any questions or concerns at info@woolysdm.com.
Thank you for keeping our staff, performers, and patrons safe!
About Carnifex
CARNIFEX is something musically unique. What really makes CARNIFEX stand out from the throngs of other Hard Rock acts currently scouring the planet, are their savage live performances. Their declaration to make every night an experience for fans rather than just a show, has proven to be the most appreciated trait of the band among fans. But you can keep your pyrotechnics and other special effects at home as CARNIFEX relies solely on the power of their music. "Every night, we strive to play extremely tight. Sometimes it can be difficult to make such an intense show so interactive, but we make sure that everyone is getting involved," says Lewis.
About By The Thousands
Progressive Groove from the Twin Cities, Minnesota.
About The Emblem Faction
We're a progressive metalcore band based out of Des Moines, Iowa. Come catch us at a show or two!
About Heir Of Sorrow
Metal band from Des Moines, IA.