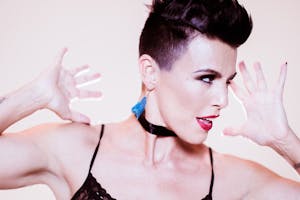 Fri, April 16, 2021
Doors: 7 PM
/
Show: 8 PM
Wooly's
Des Moines
,
IA
Bonne Finken will be performing at Wooly's on Friday, April 16th, 2021.
Here are some safety precautions we are / have been practicing at Wooly's which has been providing a safe environment for our fans at Wooly's:
Masks are required when attending a show. If you forget your mask, you can purchase one for $1 at the door.
We will be disinfecting surface areas regularly & washing hands regularly.
Our employees will be in PPE (Gloves, Masks)
Hand sanitizer stations will be located throughout the venue and in restrooms.
If you are not feeling well, please do not attend!
Please message us with any questions or concerns at info@woolysdm.com.
Thank you for keeping our staff, performers, and patrons safe!
About Bonne Finken
"The sound of some one not only embracing the future, but creating it. "
2019 Music Review - UK's Dancing with Architecture
Bonne Finken is an alternative pop/rock songwriter, producer, vocalist, composer and live performer. Performing hundreds of shows around the U.S., from rock clubs to festivals, Bonne has supported artists such as KT Tunstall, Blue October, and musical icons Joan Jett and Lisa Marie Presley.
Bonne has independently collaborated with multi-platinum producers Brandon Darner (Imagine Dragons) Michael Krompass (Nelly Furtado) and Matt Sepanic (Stone Sour; Slipknot) as well as with Jon Locker(Sonic Factory Studios), Glenn Sawyer (Spot Studios) and Rich Veltrop (Macy Gray; Rage Against The Machine).
Melding pop music with electronic rock and chamber compositions, Bonne's music continues to push the boundaries of original rock/pop music. Her songs have charted as high as #1 on college radio stations and her single "Step Back Baby' broke Iowa's glass ceiling by being the first independently released song to break into Des Moines' commercial Top 40 radio station STAR 102.5FM.
Bonne received an Upper Midwest EMMY® award for her Original Score/Song for the Cultural Documentary "FarmHer" (2016 - 'Make My Day') and received the prestigious nomination for BEST POP ALBUM by the 2020 Independent Music Awards for her album Gauntlet.
Numerous songs have been featured on television shows such as: MTV's The Real World; E! Keeping Up With The Kardashians; Oxygen's Total Divas.
B O N N E ' S S O U N D
Utilizing digital interfaces most traditionally used in the EDM genre (i.e. ProTools & Digital Performer), Bonne utilizes this technology to create & perform an entirely unique form of rock/pop music. From layered drum opuses to "guitar" solos to cinematic orchestral compositions to arena rock drums, Bonne's unique sound comes from combining these original and electronic compositions with LIVE instrumentation both in the studio and on stage.
About Darian Taylor
Darian Taylor is a singer/ songwriter, performer and entertainer from Des Moines, Iowa. On top of writing, singing, recording and producing all of her own music, she is a self-taught pianist who composes and accompanies herself all from the comfort of her bedroom.
In November 2018 Darian's first single "Foolish" was released, which kicked off her professional music career. Not long after, she released her first album "The Perfectionist" in March and began performing live around the metro. You may recognize her from "Saturday Live Music" at DSM Brew, "Tunes on the Terrace" at Café Baratta's, "Friday Live Music" at The Continental and the 2019 World Food and Music Festival. She even became the face of DSM Brew's Open Mic Thursday Nights in their Summer 2019 advertisement campaign. Speaking of open mic nights, you may have also caught her performing at The Basement, Kelly's Little Nipper or Java Joe's.
Darian Taylor has had her music played on Iowa Public Radio and The CW's "Iowa Live" segment. In August 2019 she sang the National Anthem at an Iowa Cubs Game and was honored to be asked to return and perform during the playoffs later that season. She has worked with the President of the Iowa Veterans Perspective to create and record a song from the poem "When the Boys in Blue are Gone", which was used for a Veteran's Day documentary aired on KCWI and ABC Local 5. She was even asked to perform at their annual fundraising event.
While 2020 may have been a heck of a year, Taylor didn't stop moving forward. She released her second album "Just Begun" in April and has had her single "In the Fire" spun on Iowa Public Radio. Virtual performances became the norm and she made appearances on The CW's "Iowa Live" as well as ABC Local 5 where they aired her submission for National Public Radio's "2020 Tiny Desk Contest".
Today Darian Taylor is continuing to write and produce new music. Some of which she performed live as the Guest of the Day on Channel 13's "Hello Iowa!". A major first for Darian Taylor will be her performance at Wooly's opening the show for Bonne Finken as it is her first time hitting this renowned Des Moines stage.
For more information and to find Darian Taylor's music, videos and upcoming events, visit www.thedariantaylor.com.